Essence Festival 2018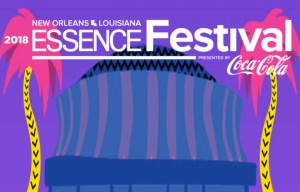 Come out for Essence Festival 2018 from Thursday July 5 through Sunday July 8. This is your chance to get up and dance to the biggest names in music on the Mainstage or see intimate performances by today's hottest stars in our Superlounges, all at the New Orleans Superdome! If you like rap, R&B, Blues, Jazz, and any other type of music, this is the festival for you.  Among this year's headliners are Janet Jackson, Mary J Blige, Erykah Badu, Jill Scott, Snoop Dogg, Idris Elba. The festival is four days and will feature five stages at the Mercedes Benz Superdome.  Since 1994 the festival has been the official party with a purpose, and this year continues the legacy with four days of music, empowerment, community and entertainment.
For a full lineup click here: https://festival.essence.com/.
Conference & Expos
This festival is famous for the music, but did you know there are also great inspirational speakers? The Festival is offering a dynamic weekend of content and experiences. The conference tracks offer conversations that educate and motivate you to live your life to the fullest. Expos bring these conversations to life with workshops, consultations, sampling opportunities and more! Essence Fest brings in some of the most knowledgeable experts to share their ideas and tips on pursuing personal success. Some of the distinguished speakers include: Journalist Mara Schiavocampo, Reverand Al Sharpton, strategist Symone D. Sanders and White House Reporter April Ryan.
History
Since the early 1990s, Essence Magazine has held a festival in New Orleans. The festival brings in the best performers and entertainers in the country, as well as a series of seminars created to empower African American men and women. Every year the performers, artists and speakers get better and better and this year is no different.
Mulate's The Original Cajun Restaurant:
While you are hanging out at Essence Festival, head over to Mulate's for some great Cajun food and some dancing. Mulate's is known as the original Cajun restaurant, famous for preserving and celebrating the food, music and culture found in the small towns and along the bayous of south Louisiana. Check HERE for our Entertainment Calendar.